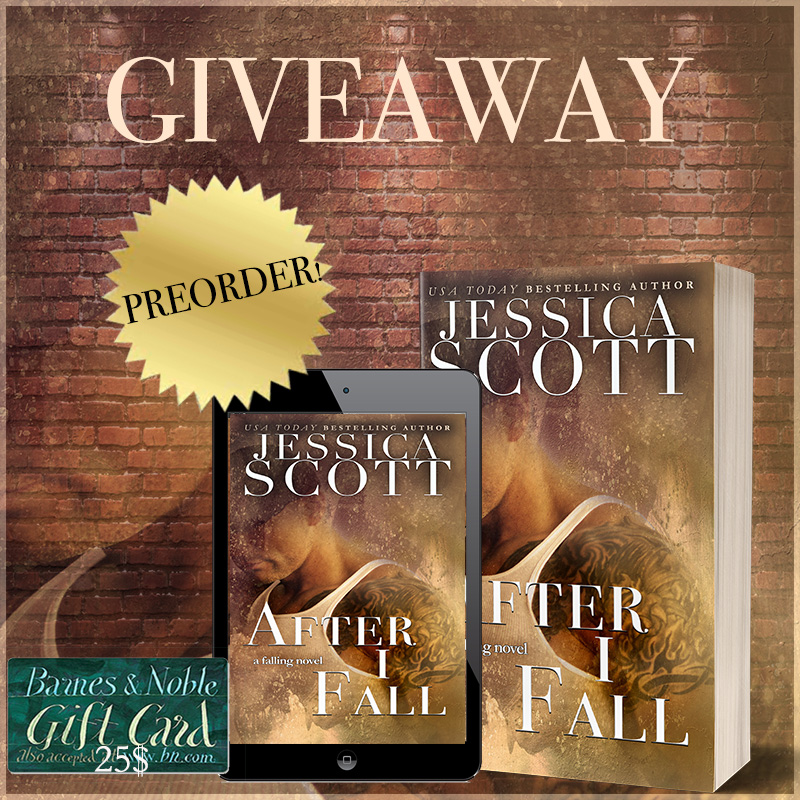 We're a little over a month out from Eli & Parker's book going live. I'm getting some pretty great feedback from it so far, so here's hoping those of you who've read the extended excerpt like what you've read!

You can start reading AFTER I FALL today!
Kindle:   epub:
Last week's winner is Debra McCune!
Share this week's post for a chance at at 25$ Barnes & Noble Gift Card!
Then ENTER HERE: 
💥PREORDER HERE💥
📕iBooks  📗 Nook  📘 Kobo  📔 Amazon  📙 Play
This week's teaser is a smoking hot scene where Parker gets to be in control for once. 
Parker
She is on her knees in front of me. It is the most erotic thing I've ever seen in my life.
There is trust in that simple gesture. I cup her chin, stroking my thumb over her bottom lip. I can't look away. Her lips part, and I slide the tip in, just a little. Her mouth is soft and warm and wet. She closes around the edge of my thumb, sucking gently, so gently.
I ache in a way I haven't ached in forever. This touch, this complete surrender to the feelings of erotic, sensual caress.
There is nothing about this that will end well. We are from two very different worlds. And no matter how much I pretend to walk in hers, I'm only visiting. Trying to get funding to keep my business open. Trying to make a difference.
Trying to pretend that the things I do still matter.
But this afternoon, when she walked away, I couldn't let her go. I looked in her eyes and saw something there that called to me. That made me need to make her believe that she was touchable. That she was worth more than the people in her life had led her to believe.
And now she is on her knees in front of me. Waiting, unsure about what to do next. My brain may want her some other way, but my dick is perfectly happy to oblige her at the moment with just how she is.
I have lost control of this situation.
But then she reaches for my jeans, her palm sliding over my cock. She squeezes me, still sucking gently on my thumb. She traces the tip of her tongue over the edge as she pulls my belt open. Jesus, I'm a fucking goner.
The air is cool on my stomach as she pushes open my jeans. I can't move even if I wanted to. I need to see this through. I need to do this right.
But I can't fucking move. I can't blink. I don't want to forget a single moment of the erotic image of Parker on her knees in front of me.
She slides my erection out of my jeans, stroking me gently. Christ, I'm hard as fucking rock. It's everything I can do not to guide her lips to me. To urge her to put that beautiful mouth around the tip of my cock.
I thought I didn't want this? I fucking lied.
She drags her teeth over the edge of my thumb a moment before she releases me. I have nowhere to put my hands now.
I drop them by my sides. I am not in control here.
"Can I kiss you here?" she whispers, rubbing her thumb over the aching crown.
"Yes please." The words are strangled. A plea. She has me under her complete control.
I am completely still as she moves closer. Rubs her lips over the tip. A soft, gentle caress. I'm ready to fucking beg.
And then she opens, tracing her tongue over the edge before sucking me gently, so gently into her mouth.
It's heaven. Pure fucking heaven. Her touch is electric, like a thousand points of heat with every slide of her lips over my cock.
I close my eyes and fight the urge to move, to rock into her.
This…this is supposed to be for her but it's not. Because I am a selfish bastard who is just like a thousand other guys who won't turn down a beautiful woman on her knees.
I'm no saint.
But goddamn, Parker feels good. Touching me. Licking me. Sucking me. I am lost in her touch. Lost in the complete and total need to let her control this, let her take this wherever it will go.
She sucks me a little harder. A groan escapes me. My balls tighten, and I can't fight the urge to rock into her. Just a little.
I reach for her then, urging her to let me go. To stand. And when she does, I pull her against me, harder than I probably should, and kiss her. I'm too far gone at the moment to do anything but kiss her. To drink from her. To take all of her inside me in that single gesture.
"I don't want to come like this," I whisper, nibbling on the edge of her meal.
"How then?"
"How do you want me?" A serious question. She needs to know that she's controlling things here. She gets to say how far we go. If we even finish. "Because right now? I'd sell the fucking bar to get you to agree to let me do terrible, forbidden things to your body."
"What are you waiting for?"
I smile and rock against her a little more. "Those five little words."
And then she is on my sofa, her upper body braced on her palms. I capture her face in my palms and kiss her gently, lowering her until she is supported. Slowly, sipping on her lips. Savoring the taste of her. "Can I touch you here?" I slide my fingers down over the length of one of her arms. She makes a noise. "Say yes," I whisper near her ear.
"Yes."
"Can I touch you here?" I trace my fingertips over the edge of her ribs, just along the swell of her breast.
Her response is a huff against my lips. I smile. "Say yes."
"Yes."
I brush the back of my knuckles over the tight edge of one nipple. A shiver runs through her.
"Can I touch you here?" A slip of my fingers against her inner thigh.
She makes a sound. A whimper. Maybe a plea.
"I need you to say yes." I manage to get the words out. Barely. They are somewhere between a whisper and growl. It takes everything I have to restrain myself but this…this isn't for me. "Please say yes."
I slip my finger a little closer, running it gently, barely there, over the seam of her body.
Waiting, intensely and painfully hard, for her response.
CONTINUE READING…📕iBooks  📗 Nook  📘 Kobo  📔 Amazon  📙 Play  

Last but definitely not least, my good friend Pamela Clare has a new book out and I have to say, I loved it. FALLING HARD is only up on Amazon right now but you should definitely go check it out. Here's the amazon link. More links soon. Also, if you like and share this post on FB, I'm giving away 5 copies to support her.
Amazon: http://amzn.to/2lzVhrA
THE FALLING SERIES
Remember to join my reader group THE PINT over on Facebook!

Find me on social media!
Facebook | Twitter | Instagram | Bookbub | Pinterest |Amazon | Google Plus